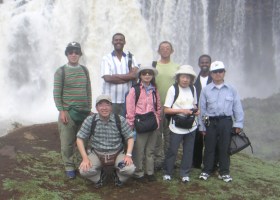 African Adventure Tours Packages to Visit Ethiopia
African Adventure Tours operates a wide variety of Ethiopia package tours, appealing to all interests through out Ethiopia including Historical tours to the Great Historic Route, Cultural tours to the Southern Omo Valley of Ethiopia, Ethiopia religious Festival Tours, wildlife safaris, Ethiopian Adventure Tours, Ethiopia bird watching and Ethiopia trekking Holidays.
Here under, we have suggested different Ethiopia package tours to visit the major tourist sites and attractions of the country.
Addis Excursions: Includes city tour in Addis Ababa and sight seeing tour around Addis Ababa. A day excursion trips from Addis Ababa either to Debre Libanos Monastery, Blue Nile Gorge, Adadi Mariam, etc are also included in this category.

Trips to Historical Sites: Ethiopia individual or group holiday featuring to the Great Historic Route of Ethiopia for visiting the historical and Archeological sites of the country. Ethiopia Historic Route is the great treasures of Ethiopia. It encompasses the history of Ethiopia from its early beginnings to modern day. A history that stretches back to the time of prehistoric man; to the 3,000 year old history of Axum; the famous 12th century rock-hewn churches of Lalibela, and the medieval castles of Gondar, which is known as Africa's Camelot. A boat cruise over Lake Tana is arranged to visit old monasteries on the islands you travel to the major Ethiopia Town to Bahir Dar, Gondar, Lalibela, and Axum. Most of Ethiopia's world heritage sties can be visited in one of the Tours.

Trips to Cultural Sites: Ethiopia Cultural Holidays/Tours to explore the colorful indigenous Culture of Ethiopia tribes. Cultural Tours to Southern Ethiopia Omo Valley you visit Bena, Hamer, Mursi, Karo, Geleb, Arbore & Borena people. In Western Ethiopia you visit the culture of The Surma, and Gambella People.

Trekking Trips: Ethiopia is a paradise for Trekkers, There are many opportunities for trekking in Ethiopia including Simien Mountains trekking, Bale Mountains trekking or Trekking in Adaba-Dodola Community based Eco Tourism site.
Trekking Simien Mountains, Trekking in the roof of Africa, is one of the best experiences for many travelers. Mammals like The Simien Mountains National park offer superb wilderness trekking with stunning scenery, dramatic cliffs and escarpments and the chance to spot unique wildlife such as the Gelada Baboon, Walia Ibex, Simien fox and many beautiful endemic Ethiopia bird species.
The Bale Mountain National Park offers superb walks and horse treks to view the scenery and the endemic wildlife, bird life and plants. Our itineraries take you on a breathtaking trek across the Bale Mountains whose landscapes are close to heaven. The scenery is so gorgeous that after only two days you will begin to wonder why on earth you ever left Ethiopia out of your travel plans for so long. Amidst this splendid scenery are some of the highest mountains in Africa, reaching up to 4,377 meters, beautiful alpine lakes and streams full of trout.
Bale Mountains trekking is the best Ethiopia trekking experience. In this trek you enjoy view the scenery, the endemic wildlife, bird life and plant species. Ethiopia endemic wild animals like Ethiopian wolves, Mountain Nyala, Menelik's bushbuck and many endemic birds can be spotted.
Trekking in Adaba-Dodola: As a Community based Eco Tourism, Adaba-Dodola has been developed recently for mountain trekking. Dodola is 320km from the capital, passing through the Rift Valley and via Shashamene with Adaba 345km from Addis. Dodola is at 2400 m above sea level at the foothills of a mountain range with peaks of over 3700 m. The climate is somewhat cooler than during summer time in central Europe. The area is malaria-free. With increasing altitude the climate gets colder and wetter. Above 3000 m a.s.l. night frosts are frequent.

Bird Watching Trips: Ethiopia is most productive birding destinations in East Africa. Our Ethiopia bird watching itinerary takes you to the main birding sites and provides a good selection of endemic, near-endemic, localized and less often found bird species. One will find over 40 lifers despite extensive previous travel in Africa.

Photo Safari Trips; Ethiopia is a land of stunning natural beauty, a rich diversity of culture and geography that captivate all visitors. This combination of history, stunning scenery and above all a fascinating culture makes Ethiopia to be regarded as the cultural capital of Africa. All these facts made Ethiopia to be the best country for filming and photographing.

Trips to the Danakil: Danakil Depression is one of the remotest, lowest and hottest places of the world in the Great Rift Valley system. Ethiopia adventure Tours to Danakil Depression: Erta Ale and Dallol takes you to explore Erta Ale volcanoes and visit of the endless Camel Caravans.

AAT Special Trips: Religious Celebration and Ethiopia Festival tours are listed on this Category. One can Tour to visit the colorful Festivals of Meskal- the finding of the real Cross, Timkat- a celebration of the baptism of Christ, Ethiopian Christmas or Axum Tsion Festival.

Miscellaneous Trips: Ethiopia group or individual Tour organized by mixing one attractions with another one. One can find Ethiopia historical and Cultural tour, Tour to the Historic Route and trekking, etc.
Detailed itineraries and prices for each tour are available on request.
Our given packages are based on what are essentially popular routes for visitors.
African Adventure Tours

Apart from these, we also specialize in Special Interest Travel and organize a group tour or tailor-made Ethiopia itineraries according to your interest, available time and budget. We can alter and mix itineraries, and organize expeditions, Ethiopia archeological tours, Ethiopia religious Tour, sports, weddings, etc.
African Adventure Tours has modern logistical support. We use our own comprehensively insured vehicles, 4WD Toyota Land Cruiser, Toyota Coaster Buses and Minibuses. We have well organized and number one camping gears. All these modern logistical support adds to our smooth tour operation.
AAT guides can go with you all the way, and make sure you do not miss anything, informing you about historical sites, local culture and customs, bird life and wildlife, and about social, economic and political developments in the regions visited and the country as a whole.

What is more, the customer can be assured of first rate service which is the out come of the greatest diligence and exceeding great care we take in conducting the tour operation.
We are a responsible tour operator and for us the safety of our clients and staff is of paramount importance. We would not run any holiday that we did not consider reasonably safe.

Camping – To visit the cultural sites in the south and to discover the extra ordinary wilderness, camping will be made on selected camping sites. Our camping materials are of high standard and comfortable for camping. Camping materials like tent, sleeping mattress, tables, chairs, camping light, etc. will be supplied.

Included in the Package price
Meet and greet at airport
Ground transportation & all transfers using according to the itinerary
All accommodation is based on twin occupancy
Meals
Bed & breakfast basis in Addis Ababa,
on full board basis out of Addis,
Non-alcoholic beverage on lunch and dinner time
Local Guides and scout fees
Mule ride trip out of Lalibela to a Monastery
English speaking Professional Guide throughout entire program,
Government sales tax,
Farewell dinner in Addis to enjoy traditional Ethiopian food & Music, and
A traditional Ethiopian coffee ceremony at a convenient time in the program
Not included in the price
International flights & Domestic airfare
Alcoholic drinks & spirits
Laundry service
Lunch and Dinner in Addis
Video filming and photography fees
Incidental meals, snacks and drinks
Tips and items of personal nature.
Extension trip or Additional Accommodations
To extend your holiday by booking some pre or post tour accommodation – contact African Adventure Tours.

Other information
Ethiopia is a newly-developing tourist destination and some facilities may not be to an expected standard. We have included the best available hotels but hot water, 24 hours electricity and a wide variety of meals may not be available.